Rehabilitation For Your Dogs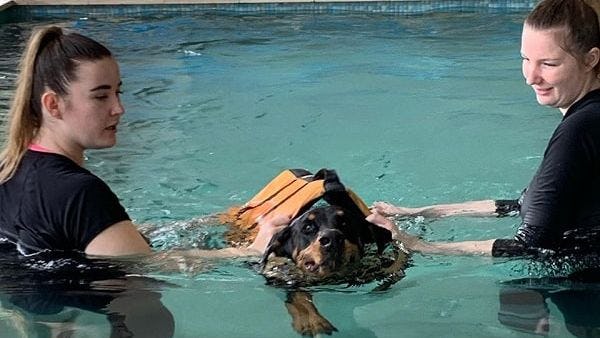 Just like us, dogs need rehabilitation too after surgery or an injury. Rehabilitation can speed up recovery and achieve strength, balance, cognition and can increase function and mobility of joints and muscles. It can reduce pain and inflammation and enhances a better quality of life for your pooch. Rehabilitation therapies are also great for degenerative diseases, age related conditions and obesity.
 
Canine rehabilitation can be traced back to the early 1980's in Europe and the United States, where Equine Rehabilitation was introduced back in the 1960's. Australia is slowly starting to catch up with the USA and Europe on all the fabulous rehabilitation therapies and modalities that are now on offer to help our four legged friends achieve optimum mobility.
 
Rehabilitation therapy should be a standard feature of the complete care plan for post surgery, injured, disabled or otherwise debilitated dogs as the benefits will make the world of difference to their health and well being.
Detecting that your dog may have an issue may sometimes be hard, but you may start to notice some of the following:
Common Problems Associated With Musculoskeletal Issues
Pain, swelling, inflammation
Muscle atrophy
Restricted ROM
Soreness, lameness
Reduced mobility
Difficulty rising from rest
No longer jumping into car or on lounge
Incontinence
Common Conditions Treated
Degenerative neurological problems
Spinal / Herniated discs
Osteoarthritis
 Arthritis
Post-operative orthopaedics
Tendon and ligament injuries
Spinal Cord injuries
Paralysis
Hip/Elbow Dysplasia
Obesity
Muscular degeneration
Poor conditioning
Senior
Why is Rehabilitation Important
​Quality of life is the focus for the patient and optimising movement. Low impact cardiovascular training is used for rehabilitation to ensure pain relief and management. Canine rehabilitation can return a dog's range of motion and strengthen injured or weakened areas. 

Forms of Rehabilitation
Manual therapies
Massage
Passive movement exercises
Core strength and stability work.
Resistance training.
Proprioceptive retraining.
Land treadmill
Hydrotherapy
Thermotherapy (hot and cold applications)
Massage
​Massage AchievesPain relief Drainage Relaxation of the bodyPromotes an excellent supply of nutrients, oxygen and blood flow to the muscle groups.Soft tissue manipulationBeneficial for the nervous and circulatory systems. 
Hydrotherapy
​Hydrotherapy treatment is used to effectively rehabilitate animals after injury or surgery, as well as used for fitness and performance enhancement, weight loss and to maximise functional movement in the older arthritic dog. 
Pool
Non-weight bearing conditions are treated with swimming, as the flotation supports the entire body weight and the limbs move freely without the "jarring" effect of exercising on hard ground. 
Under Water Treadmill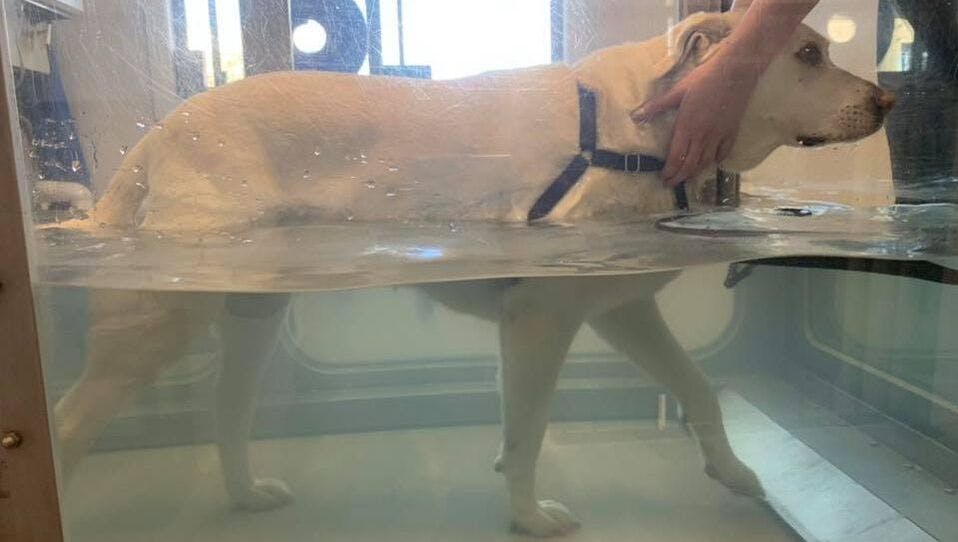 UWT achieves 60-70% weightless exercise without changing normal movement patterns.
Controlled speed and water levels improves benefit to your dog, supporting them and shortening recovery time.      

Therapeutic Exercise

​Proprioceptive and balance exercise teaches the body to control the position of a compromised or an injured joint.
 
Therapeutic exercise can provide a wide range of benefits for rehabilitation patients.
Proprioception and balance exercise is becoming one of the most valuable modalities used in animal rehabilitation for recovery and strengthening, increased pain free range of motion, flexibility, building muscle strength and muscle mass, endurance and preventing further injury. Therapeutic exercises can help animals recover faster from surgical procedures or injuries and will help with the animal to return to its best functional independence as possible.

Strengthening
​The main emphasis in strengthening is mainly resistance training. In a recovering patient strengthening needs to start slowly and gradually build up as the patient progresses. Core strengthening assists in preventing injuries.
​ 
Rehabilitation Aids
​There are many rehabilitation/mobility devices out in the market ranging from wheel chairs, harnesses to toe grips that are wonderfully helpful for both dogs and their humans. 
​
Herbal Medicine and Supplements
Herbs and supplements can be added to the diet to assist in joint issues, mobility, immune problems and muscle atrophy. 
​

Photonic Therapy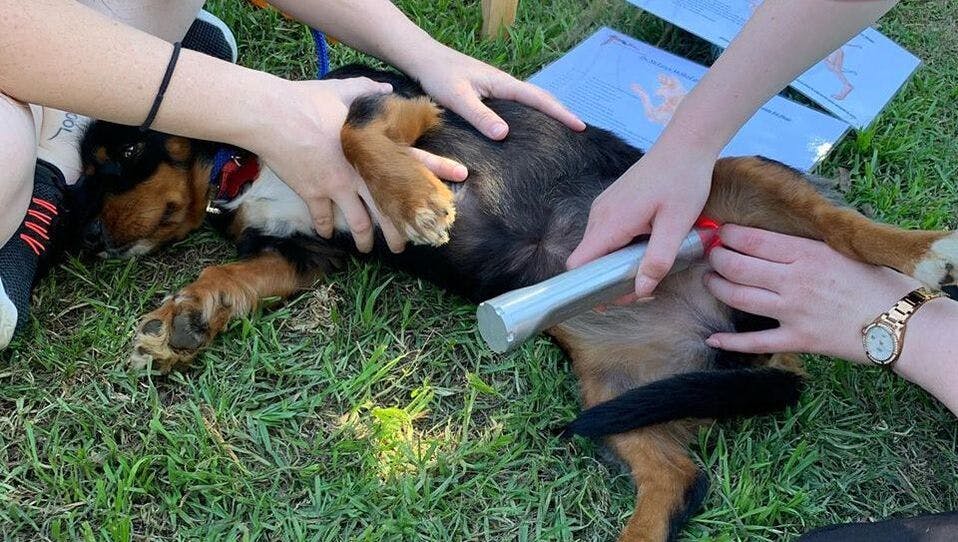 No Needles
Safe and painless
Promotes healing
​In Summary:  Each dog will be individual so their rehabilitation program will vary on each particular patient. Rehabilitation allows better quality of life, restores strength, mobility and speeds up recovery as well as assisting in pain management and pain relief.
​
K9 Swim is a state-of-the-art rehabilitation centre and the only one of its kind in Australasia which offers many of these therapies under the one roof.
We have our Hydrotherapy indoor heated pool and Under water treadmill,
Photonic Therapy, Massage, Herbal remedies as well as the latest supplements, rehabilitation aids for many conditions and our inhouse Osteopath Dr Samantha Sherrington and our alternative Vet Dr Rob Willis. A Vet referral form will be necessary for your dog to come to us for rehabilitation and we do offer rehab packages