Keeping Your Dog Safe This Summer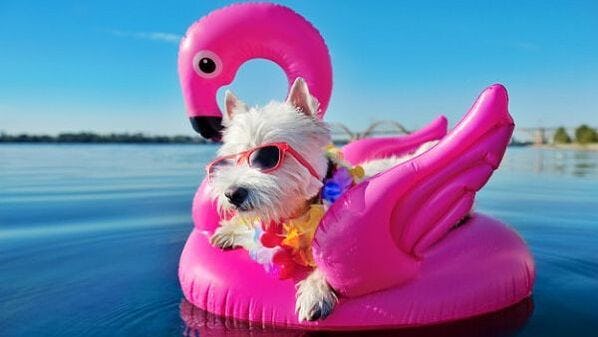 Summer and Christmas is here! It is an exciting time of the year however our fur babies might not think so with lots of noisy festivities around them, unfamiliar people, fireworks, parties, flashing Christmas lights and not only that but the heat and electrical storms we get during these months can make even the most relaxed dog anxious.

Have you thought about how you will help your pet get through these summer boogity's? Here are a few handy hints on making Christmas and Summer months easier for your family pets.
Christmas Festivities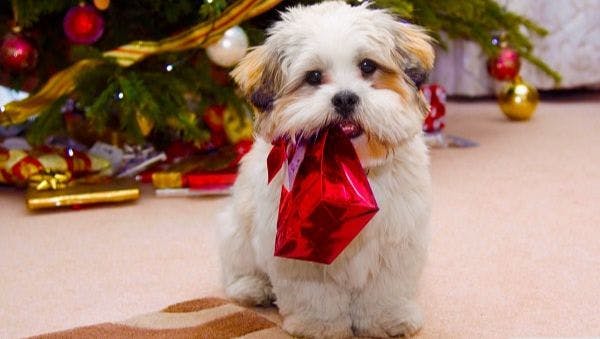 ​Secure Your Christmas Tree
A Christmas tree can easily be knocked down by your dog. Place your Christmas tree in a corner and secure the tree so it won't be knocked causing your dog or anyone else injury.

Keep tinsel and decorations out of reach
These decorations are very tempting for dogs even if they are placed high on your tree. Make sure you keep an eye on your dog if they are anywhere near these because swallowing them can cause serious injury or even death.

Know Which Christmas Foods Are Bad For Dogs
Christmas foods that we love can be toxic to your dog. Here are a few foods that you should NOT give your dog – chocolate, Christmas cake, grapes, raisins and nuts and NO ham bones as they are quite fatty and can lead to pancreatitis. Stick to treats that have been made for dogs as they love it and they are good for them. Why not make your dog their own yummy Christmas dinner and homemade doggie treats!

Choose The Perfect Gift For Your Dog
The perfect gift for your dog is the practical gift. They may need a new bed or new toy, they may be in need of some good natural supplements if they are aging, in competition or recovering from an injury. You may like to book them in for a fun swim, water treadmill or jet spa session at K9 Swim for a treat.
 
Why not buy your dog their own life jacket so you can be assured they are safe when they go swimming on holidays or in your own pool, or a towelling doggie robe to soak up the water and catch the sand from the beach or even a rashie to protect the sensitive skin dogs!
 
We at K9 SWiM stock lots of healthy supplements and swim wear so you can keep them healthy inside and out.
We also stock fun water toys that are durable, colourful and floatable - the perfect gift for this summer. 

Include Your Dog In Celebrating Christmas and Know When They Need To Rest
It is great to have your dog enjoying Christmas with family and friends, but they also need space away from it all where they can rest and relax. Many dogs are afraid of fireworks and may panic or try to run away and injure themselves in the process so be sure they are safe and cannot get out. If your dog needs to be away from the celebrations make sure you spend some time walking and playing with them beforehand. Have a safe, quiet place where your fur baby can have time out from all the noise, laughter and activity.

Organise a Dog Sitter or Dog Walker
If you are going away or busy going out over the Christmas break why not organise a dog sitter or dog walker who will make sure your dog stays safe, exercised and happy while you are not at home.

Play With Your Dog
Your dog loves to spend time with you. It is not always the quantity but quality. Play their favourite game or take them to their favourite dog park to meet up with their friends.
Dogs are part of the family, so it is important that they feel safe and happy over the holiday season. 

If Going On Holidays Take Your Pooch Too
There are so many places that accommodate dogs now that it makes it easier to take your dog with you on your holiday.
 
We hope these tips help you keep your dog happy and safe over Christmas and keep their tail's wagging! ​
Summer Storms and Heat

A lot of dogs are very sensitive to climatic changes and some of them get very anxious when it comes to dealing with storms or excessive heat.

They have a very acute hearing and a keen sense of smell and know when a storm is approaching well before humans do. If you find your dog becoming restless and anxious, it's important that you don't make too much of a fuss about it. Act normal and comfort them without mollycoddling them too much as this will help calm them down eventually.
 
These following points can assist you and your dog in coping with stormy weather:

Thundershirts
This coat helps in calming and settling your dog with the gentle pressure it applies to their body. 

Storm Warning App
Download this app on your phone; it will pre-warn you about an approaching storm and you can take the necessary steps to calm your dog. 

Music Pod
The Pet Tunes music pod that operates via Bluetooth is specifically designed to help calm anxious dogs; it can play continuously for 8 hours and is useful even when you are at work, to keep your dog relaxed and calm at home. These are sold here at K9 SWiM.

Herbal Remedies
There are a number of natural, herbal remedies that help in calming the phobias, fears, and anxiety that pets face. Natural products are drug-free and non-invasive and great to calm your pet in situations such as these. Talk to us about herbal remedies for your dog as we make many herbal remedies not just for calming and they are made up for specifically for your dog.

Essential Oils
There are some great essential oils safe for pets that can calm and relax them.

Keep Your Dog In A Sheltered Space
Bring your dog indoors or keep them in the garage or any other area of your home where the fury of the storm is less evident. 

Get Some Prescribed Medication
If your dog suffers from severe anxiety attacks when the weather is very stormy, you should consider visiting your vet and they may recommend a prescribed medication to calm your dog.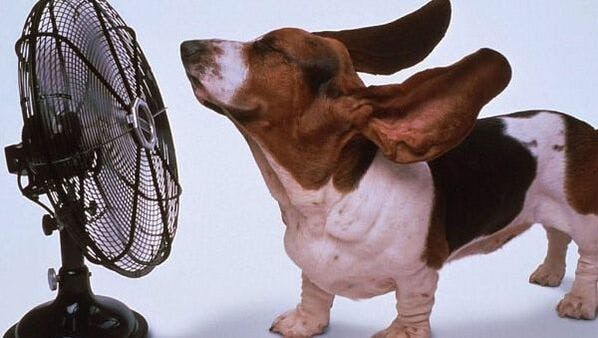 Heat
The heat can be very stressful for our dogs and its really important to let them have access to fresh cool water at all times and a shady, cool area to escape the scorching sun. If your dog can have access to a cool room inside the house on the excessively hot days, they will be better off especially the older dogs that don't cope as well as they used to in extreme weather conditions.
Keep exercise to early mornings or in the cool of the evening. 

With such a busy time of the year we can forget about our dog's normal routine and sometimes their walks or exercise time gets put on hold. Try to continue to keep everything as normal as possible for your fur baby as they look forward to their outings and time with you.

One way to ensure this doesn't happen is to bring your dog to K9 SWiM's Hydrotherapy Centre. Your pet can swim around and have fun at our indoor pool and get the exercise he/she needs during the holiday season too as well as having some fun!

Enjoy this lovely time of the year and involve your pooch as best you can and keep them safe and stress free.